Key Yachting
Key Yachting Ltd,
Hamble Hampshire, SO31 4NB
Tel:44 (0)2380 455669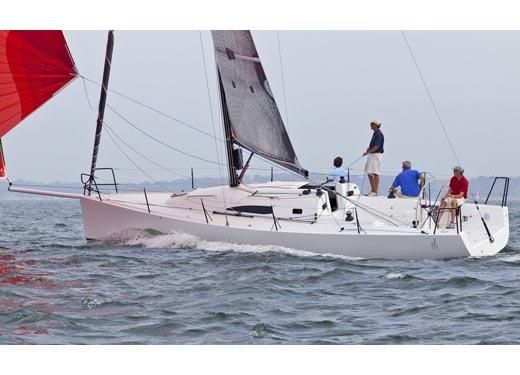 The J/111 is a sleek, speedy, one-design 36 footer that is the ultimate day sailing, racing and weekend cruising sailboat. J/111 is an easy-to-handle, comfortable sailboat that accelerates quickly, slices to windward at 7+ knots and hits double-digit speeds downwind. The J/111 has all the essentials below for comfortable overnights and short cruises. The main cabin features an open layout with L-shaped galley, forward facing nav station, a wet locker and two full length settee berths with option for additional fold-up sea-berths. Six can comfortably sit for dinner. Two spacious aft quarter berths are standard, as well as a private forward head and removable V-berth.The J/111 is designed to be the best performing, easiest-to-sail boat of its size on the market, while offering the creature comforts needed (6' headroom) to satisfy the occasional overnight cruise. It's all about versatility and the joy of sailing - how to have the most fun out of the time and resources invested. This is the J Boats formula for success in building local one-design fleets and it's a pretty simple formula. Generally, there aren't enough owners in one area who can rationalize the expense of campaigning a single purpose (non-versatile) racing sailboat. There may be 20-30 owners nationally who are willing to fund a traveling program to a pinnacle event like Key West Race Week, but without the versatility to appeal to many owners, local fleets never reach the critical mass needed for long-term success. The J/111 is the next generation one-design J/Boat to fulfill the legacy of its predecessors. J/111 accelerates up to speed in the slightest of puffs, thanks to a generous, high-aspect rig combined with a low wetted surface hull. Sailing efficiency is gained by maximizing the sail luff lengths and reducing foot lengths to create a balanced, non-overlapping sail plan. When the wind and waves are up, J/111 pops up on a plane and delivers the dinghy-like, exhilarating rides that many modern designs struggle to do because of over-tweaking to handicap rules that encourage heavier, non-planing hull shapes. Turning the corner to go sailing upwind, J/111's efficient hull form and low vertical center of gravity kick in to provide the sweet weatherly handling J's are reknown for.The J/111 features an optimized E-glass/vinylester vacuum infused laminated hull and deck, a two metal, low-VCG bulb keel, a retractable carbon sprit, rail mounted shroud terminals (J/122 style), and a low-profile jib furler. Particular care is paid to centralizing and lowering weight both above and below decks, all critical to make the J/111 your ultimate sailing boat.
Specifications
Max Draft
7'2 ft / 2.19 m
Sail Area

Working Sail Area : 663.00 sq ft